Multiplayer Event Recap
Here's a small recap of the multiplayer event for those who have missed it:
Multiplayer Reveal Trailer
Customization
Create up to 10 unique soldiers
Each soldiers appearance and loadout can be edited
Over 20000 possible combinations (head, helmet, uniform, patch, background, clan tag, etc.)
Female soldiers can be created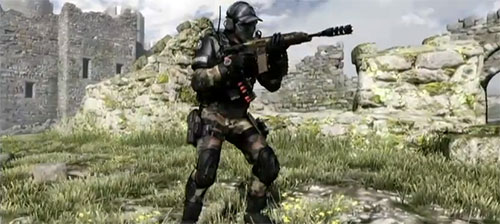 Create-A-Soldier
Similar system to Black Ops II - you have a budget to spend on primary and secondary weapons, lethal and tactical equipment and perks
All weapon attachments and killstreaks are free
Over 30 new weapons
New primary weapon class: Marksman Rifle (combines assault rifle and sniper rifle)
Strike Packages from MW3 return
Over 20 new killstreaks
New perks system with 35 perks - you have 8 points to spend on perks and each perk costs between 1 to 5 points
Deathstreaks have been removed
As you earn XP you also earn "Squad Points" that you can use to unlock new weapons and equipment
Squads Mode
Can be played solo, cooperatively with up to 6-players or competitively 1 vs. 1
Playing the Squads Mode earns you XP and Squad Points
Built-in modes: Squad Assault (6 players vs. the AI), Safe Guard (4 players vs. increasing AI waves), Squad vs. Squad (1 vs. 1 with your squad as AI controlled teammates), War Game (5 vs. 5 squads)
New AI is almost life-like with cunning tactics and behaviors like side-strafing, corner-camping, jump-shooting and more.

DLC Season Pass
Four map packs to be released in 2014
Map packs cost $15 / 1200 Microsoft Points each
Season Pass at discounted price of $50 / 4000 Microsoft Points
Season Pass includes all four DLC map packs, Free Fall bonus map and the games soundtrack
Comes with additional MP bonuses
Hardened and Prestige Editions
Hardened Edition costs $120
Prestige Edition costs $200
Both come with the game (featuring unique disc art), Season Pass, Collectible SteelBook and Paracord Strap (has 10 feet of versatile military paracord)
The Prestige Edition comes with a 1080p HD Tactical Camera that's modeled from actual in-game equipment.
The Tactical Camera is shock proof and water resistant and comes equipped with three attachments.

Miscellaneous
The game will ship with 14 multiplayer maps
Field Orders are random challenges dropped by downed enemies - you earn rewards via Care Packages if you complete them
Dual render scopes thanks to the next generation engine
Contextual leaning that makes your soldier automatically lean near walls
Mantling allows you to automatically hurdle most obstacles
The new knee slide allows you to go from a running position to your knees by crouching
Theater mode and in-game live streaming have been removed
Xbox One and PlayStation 4 users can record and live stream directly from the console
No cross generation play
The "dynamic" destructions in multiplayer are triggered events
The PC version has the best graphics and is the best looking Call of Duty game to date
You can trade your current generation version to a next generation version without losing your progress - your Season Pass will also transfer over
Full One Hour Multiplayer Reveal Event